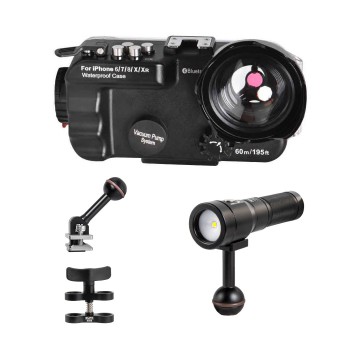 A perfect housing set for the Instagram, Facebook or Youtube diver. Dive – film or take photos – post on Instagram, Facebook or Youtube immediately.
More information
The housing
Bluetooth connected for added features. Included are a perfect wide angle port. The housing is safe and secure down to 60 m and has all the mounting options as any other UW housing. It even comes with 2 built in filters.
Main features:
Inbuilt red & magenta filters (can be changed on the go)
Stainless steel plate with 1/4″ mounting holes
Cold shoe mount for additional light source
32mm thread for filter
The light
A photo & video light in a complete package popular among underwater photographers. The set includes Scubalamp light 1200 lumen, battery, charger, ball adapter and a transport case. The light has generous burntime with a 70 degrees beam angle well suited as a photographers focus light. It is a diverse light is also well suited as a regular dive light or as a video light.
Specifications
Burntime: 1200 lumen – 100 min
Compatible with 1*18650 battery
Beam Angle: 70 degrees
Dimensions: 127mm x 36mm x 25.4mm
Net weight: 168 gram, 105.8 gram (underwater)
Depth: 100 m
Pris: 3 250:-