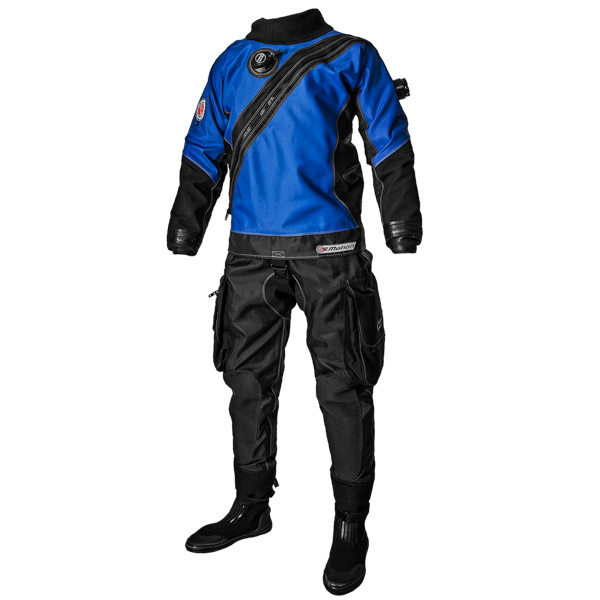 Everything that a diver needs is to be safe and dry, but first of all not to have movement restrictions and be as flexible as possible. All of those features are especially looked after in the new E.Motion suit. A lot is achieved thanks to the lightweight Ripstop nylon fabric especially designed for Santi to achieve the best possible stretch. It is light and soft but at the same time very durable and flexible, which is exactly what a diver needs.
As you all know the weight of the suit is extremely important when thinking about the most convenient diving. The Santi E.Motion drysuit weights only 3.2 kg. The knee area is additionally protected by special Kevlar knee pads. The unique cut of the crotch pad allows for better leg movement. The E.Motion suit is equipped with a TIZIP Masterseal zipper. The TIZIP is very durable, but also light and flexible. It is highly resistant to dirt and needs only minimal care. Santi offers 2 years warranty for the TZIP.
As in any of Santi drysuits, the E.Motion is equipped with two big and solid cargo pockets with bungee strings to mount the equipment. The right pocket has a useful additional zipper fastened pocket for double enders, line arrows etc.
The E.Motion is equipped with Flex Sole boots. A warm collar hood made of 9 mm soft neoprene is included,
or any other from Santi range according to request.
16 standard sizes are available, as well as MTM. Additional choices of options such as p-valve, dryglove rings, neckrings and more are available.
Features:
Total weight – 3,2 kg
Fabric Ripstop Nylon/butylen/Polyester 260 g/sqm
Colors: black/black, black/red, black/blue
Telescopic torso
TIZIP plastic zipper covered by additional zip-fastened flap
Crotch pad reinforcement
High-profile Apeks valves and inlet valves
Two utilities pockets with elastic bungee loops; the right pocket has a zip-fastened flap with a small pocket for double ender bolt snaps
Kevlar® knee pads
Neck seal made of insulated latex
HD bottle shape wrist seals
Flex Sole boots
Suspenders
9 mm Neoprene collar hood
Rubber hose
E.Motion travel bag