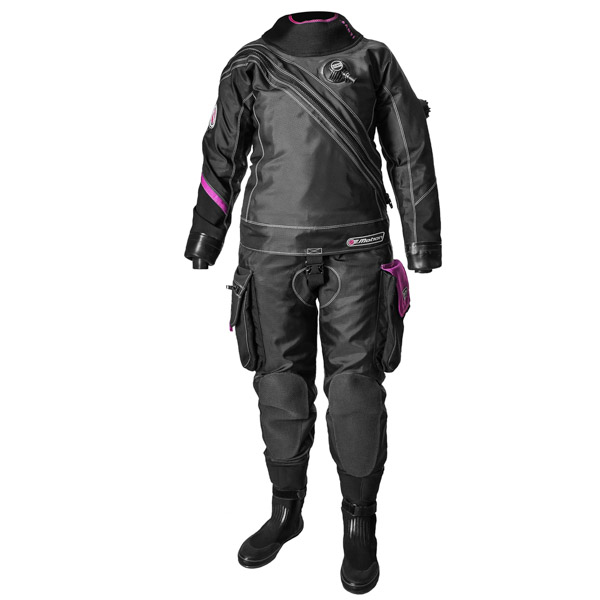 The Santi Ladies First drysuit is an Emotion quality drysuit from Santi's special product line for women divers. The cut is designed considering the silhouette differences, and add elegant details that allow to underline the attractive look. The drysuit is available in three color versions: pink, lime and grey. The Ladies First drysuit is produced from lightweight Ripstop nylon fabric especially designed for Santi to achieve the best possible stretch. It is light and soft but at the same time very durable and flexible, which is exactly what any diver needs.
The knee area is protected by special Kevlar knee pads. The special cut of the crotch pad allows for better leg movement. The drysuit is equipped with a TIZIP Masterseal zipper. The TIZIP is very durable, but also light and flexible. It is highly resistant to dirt and needs only minimal care. In the Ladies First model the zipper is placed from right to left side which allows for better outlet valve placement.
As any of Santi drysuits, this suit is equipped with two big and solid cargo pockets with bungee strings to mount the equipment. The right pocket has a useful additional zipper fastened pocket for double ender bolt snaps. To make the pocket fit better on the ladies suit, Santi has made it slightly smaller than in standard unisex drysuits.
Avaliable sizes: XS,S,SL,M,ML,MLL,LS,L,LL,XLS, XL, XXL,
MTM/Custom offer, additional choice of options available
Features:
Total weight – 3,2 kg
Fabric Ripstop Nylon/butylen/Polyester 260 g/sqm
Colors: black/pink, black/lime, black/grey
Telescopic torso, lady cut design
TIZIP plastic zipper covered by additional zip-fastened flap
Crotch pad reinforcement
High-profile Apeks valves and inlet valves
Two utilities pockets with elastic bungee loops; the right pocket has a zip-fastened flap with a small pocket for double ender bolt snap
Kevlar® knee pads
Latex neck seal
HD bottleshape wrist seals
Flex Sole boots
Suspenders
9 mm Neoprene collar hood
Rubber hose
Ladies First travel bag, Ladies first afterdive beanie hat
12 sizes in standard, MTM option
3 years warranty